Well & Excavating Contractor in Great Falls, MT
44 Water Treatment and Well Service is Montana's most-trusted provider of well water services, including water treatments and testing, water well cleaning, and septic system installation. We also retail quality filtration and softening products, to ensure your potable water is always clean, clear and safe. Contact us today for experienced well and water services!
Our business has been in operation since 1987, with new management in 2009.
We're independently-owned and –operated, with more than 18 years of professional experience.
We offer senior discounts to customers, to help keep costs manageable.
Our well and excavating contractors are certified for septic systems in Great Falls.
We're a Diamond Dealer for AY McDonald, a Key Dealer for Franklin Electric and a Grundfos Water Pro Dealer.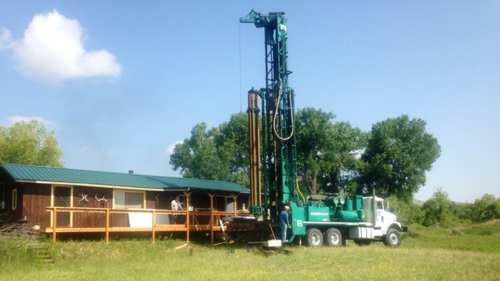 When the integrity of your well falls into question or the quality of your water becomes suspect, don't waste any time in contacting the experts at 44 Water Treatment and Well Service. We're quick to provide you with the water testing and treatment your potable water needs, along with well repair and well pump service in Great Falls, Belt, Black Eagle, Cascade County, and Vaughn, MT. Our mission is to guarantee your home a steady supply of water that's clean and safe, so you can enjoy the modern amenities your home has to offer. And, while we don't do the actual drilling, we can facilitate everything your pump needs to get up and running and stay that way for as long as you use it.
One of the most important services our well and excavating contractors offer is water testing. We'll test your drinking water to make sure it's safe and pure—and if it's not, we have the solutions to address whatever is contaminating it. Rely on us to outfit your well with the best filtration or water softener system in Great Falls, MT, to remove everything from microbes to heavy metals and beyond. Need a new pump installed? We can do that too! Whatever your well demands, expect us to answer the call. Take a look at just a few more reasons our customers know they can count on us for swift and decisive well and water solutions:
Clean, Safe Potable Water
When your well needs repairs and service to remain function or your water requires treatment to remain clean and safe, trust our well and excavating contractors to deliver it. Contact us today regarding your well.
Proudly Providing Services to the Following Areas:
Great Falls, MT
Cascade County, MT
Chouteau County, MT
Judith Basin County, MT
Teton County, MT
Lewis and Clark County, MT
Meager County, MT
Choteau, MT
Helena, MT
Butte, MT
Bozeman, MT
Fort Benton, MT
Missoula, MT